Findings
At high power, this plastic section of a mucosal fold in the fallopian tube shows the structure of the mucosa in greater detail. Note the ciliated cells and peg cells whose apices protrude into the lumen. Numerous blood vessels are present in the subjacent lamina propria.
Comment
In addition to a regional distribution of ciliated and nonciliated epithelial cells discussed in the comment with the previous image, the relative distribution of these cell types changes during the menstrual cycle. Estrogen produced during the first half of the menstrual cycle (follicular phase) stimulates ciliogenesis in the Fallopian tubes, whereas progesterone increases the number of secretory peg cells during the second half of the cycle (luteal phase).
Preparation
Plastic section; hematoxylin and eosin
View
High-power light microscopy
Specimen
Fallopian tube
Image Credit
V. Eroschenko, Ph.D.
Department of Biological Sciences
WAMI Medical Program
University of Idaho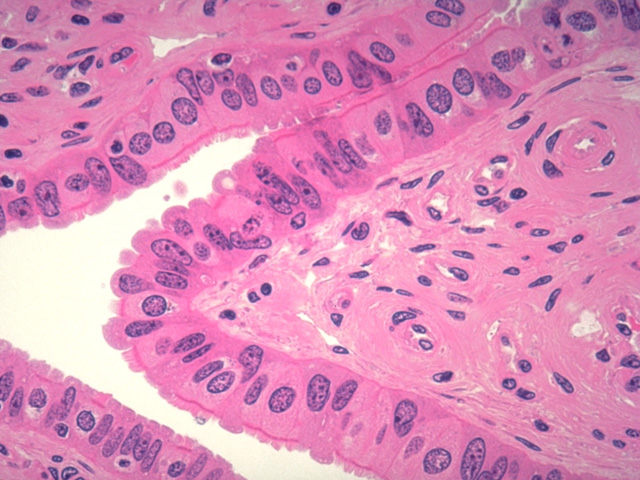 Please report any comments, questions and/or concerns to us by clicking on the button below. Developed by the UCSD School of Medicine, Office of Educational Technology
Copyright 2021, University of California, San Diego
All rights reserved
Request Help